-Unlimited quantity inverters parallel for on-grid and off-grid operation
-Support triple-phase mode and full-power single-phase mode
-100% unbalanced output, each phase max. output up to 50% rated power
-Support ON/OFF GRID mode switch, EPS output
-Colorful 7-inch touch LCD, IP65 protection degree
-Support battery charging/discharging according to the time setting
-Dual AC input port for grid and diesel generator
-Support storing energy from diesel generator
-Support different power inverters'parallel connection
-ARC fault detection optional
We have rich service experience and research and development technology.
Model
Mars-5G1-LE
Mars-6G1-LE
Mars-8G1-LE
Mars-10G1-LE
Mars-12G1-LE
Mars-14GI-LE
Battery Input
Battery Type
Lead-acid or Lithium-ion
Battery Voltage Range (V)
40~60
Max. Charge Current (A)
120
130
200
220
250
280
Max. Discharge Current (A)
120
130
200
220
250
280
Charging Curve
3 Stages / Equalization
External Temperature Sensor
Yes
Charging Strategy for Li-Ion Battery
Self-adaption to BMS
PV String Input
Max. DC Input Power (W)
7500
9000
12000
15000
18000
20000
PV Input Voltage (V)
650 (160~800)
MPPT Range (V)
200~700
Full Load DC Voltage Range (V)
260~650
Start-up Voltage (V)
160
PV Input Current (A)
17+17
17+17
17+17
26+17
26+17
26+17
Max. PV Isc (A)
20+20
34+20
No. of MPPT Trackers
2
No. of String per MPPT Trackers
1+1
2+1
AC Output
Rated AC Output and UPS Power (W)
5000
6000
8000
10000
12000
14000
Max. AC Output Power (W)
6000
7200
9600
12000
13200
15400
Peak Power (off grid)
2 times of rated power, 10 S
1.8 times of rated power, 10 S
AC Output Rated Current (A)
7.58/7.25
9.09/8.7
12.1/11.6
15.2/14.5
18.2/17.4
21.1/20.3
Max. AC Current (A)
11.4/10.9
13.6/13
18.2/17.4
22.7/21.7
27.3/26.1
27.6/26.4
Max. Continuous AC Passthrough (A)
30
30
30
50
50
50
Power Factor
0.8 leading to 0.8 lagging
Output Frequency and Voltage (V)
50/60Hz, 380/400Vac(Triple phase)
Grid Type
Triple phase
Current Harmonic Distortion
THD<3% (Linear load<1.5%)
Efficiency
Max. Efficiency
96.60%
Euro Efficiency
96.00%
MPPT Efficiency
99.00%
Protection
Integrated
PV Input Lightning Protection, Anti-islanding Protection, PV String Input Reverse Polarity Protection,
Insulation Resistor Detection, Residual Current Monitoring Unit, Output Over Current Protection,
Output Shorted Protection
PV Arc Fault Detection
Optional
Output Over Voltage Protection
DC Type II / AC Type III
Certifications and Standards
Grid Regulation
CEI 0-21, VDE-AR-N 4105, NRS 097, IEC 61727, G99, G98, VDE 0126-1-1, RD 1699,C10-11
Safety Regulation
IEC/EN62109-1, IEC/EN62109-2
EMC
IEC/EN 61000-6-1,IEC/EN 61000-6-2, IEC/EN 61000-6-3, IEC/EN 61000-6-4
General Data
Operating Temperature Range (°C)
-40~60, >45 Derating
Cooling
Smart Cooling
Noise (dB)
<45
Communication with BMS
RS485; CAN
Weight (kg)
38
40
42
44
44
45
Dimensions (mm)
510Wx630Hx290D
Protection Degree
IP65
Installation Style
Wall-mounted
Warranty
5 years
Different sizes and powers meet the vast majority of scenarios. We provide on-site installation and usage guidance services, making it easy for you to buy and use.
If you have any questions during the browsing process, please feel free to contact us and communicate with us at any time.
100% unbalanced output
Chisage ESS hybrid inverter support 100% unbalanced output, enabling efficient power distribution across all phases. Each phase can deliver a maximum output of up to 50% of its rated power, providing flexibility and optimal performance.
Independent AC input port for diesel generator
Chisage ESS hybrid inverter have an independent AC input port specifically designed for connection to a diesel generator. This allows seamless integration of backup power from the generator when needed.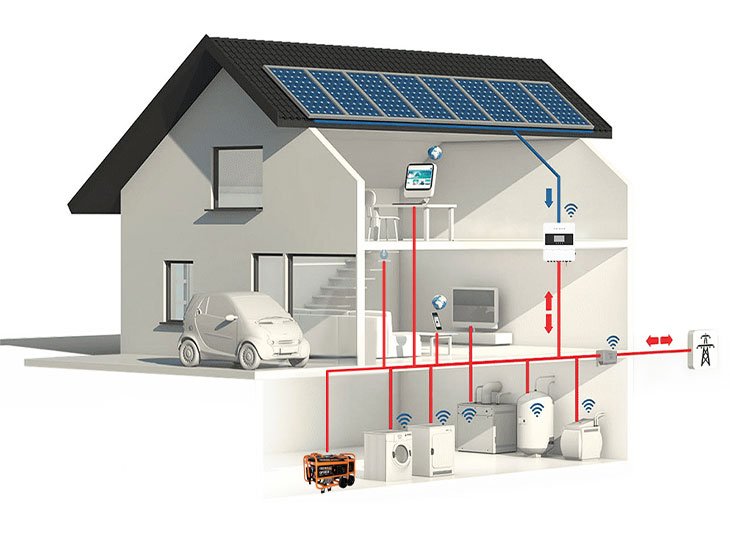 Unwavering Service and Support, Every Step of the Way
Our consistent persistence has forged our rich product line and technical strength, meeting the different needs of different customers. Our business philosophy is to have a professional service attitude.
We have served thousands of customers and have rich service experience.
Support less than 10ms on/off grid mode switch
Chisage ESS hybrid inverters are designed to support fast switching between on-grid and off-grid mode in less than 10 milliseconds, ensuring a seamless transition between on-grid and off-grid operation.
Support battery charging/ discharging according to the time setting
Chisage ESS hybrid inverter supports battery charging and discharging based on time settings. You can conveniently schedule the charging and discharging of your batteries according to your energy needs and preferences.
What Our Customers Have to Say
Real feedback from users can better reflect the professionalism of our products.
As a professional consultant, I am impressed with this company's products. Their solutions in the field of new energy are not only efficient and reliable but also aligned with environmental goals. I highly recommend their products to any business seeking sustainable energy solutions.
John Smith
International Energy Consultant
As an environmental scientist, I am highly satisfied with this company's product quality. Not only do they deliver exceptional performance, but their products also have minimal environmental impact. I believe their products are crucial for future sustainable development.
Sophie Anderson
Environmental Scientist
We have been partnering with this company for several years, and they have consistently demonstrated professionalism and outstanding products. Their new energy solutions have had a significant impact on energy efficiency, leading to great success for our organization.
Hans Müller
Energy Department Manager (Germany)
As an energy planning expert, I am impressed with this company's products. Their innovative technologies and efficient equipment allow us to better harness renewable energy sources and drive our country's energy transition process.
Isabella Rossi
Energy Planning Expert (Italy)
As an organization dedicated to environmental protection, we are highly satisfied with this company's products. Their new energy solutions not only deliver outstanding performance but also contribute to carbon emissions reduction, making a positive impact on our planet.
David Johnson
President of U.S. Environmental Organization
Most frequent questions and answers
Our company provides training services, aiming to help customer's team better understand and operate our products. A team of professional technical engineers will provide detailed product training, including functional introduction, installation and operation, program configuration, maintenance and warranty, etc., to ensure that the performance and functionality of the product are fully utilized.
Within half a year, we will stock 2% of the spare parts for replacement, after the purchase of the product we will also arrange after-sales training, so that customers can quickly understand the product and learn to use. In the future, we will also set up service points in key markets.
When the customer's purchasing volume reaches a certain amount, and sign a strategic agreement with our company, we will open a technical center in the customer's city, in order to get our professional technical support and service at the first time, to solve any possible problems.
The following accessories come standard with our Mars series: User Manual、Certificate、Warranty Card, wall mounting bracket, stainless steel crash bolt, stainless steel hexagonal combination screw M6X16, stainless steel hexagonal combination screw M4X12, WIFI-Stick, sensor clip, communication cable, CAN parallel cable, PV Input Connector, NTC Battery Temperature Sensor, Self Sealing Bag.
Relevant information can also assist you.