Autumn carries gold in its pocket, bringing the happiness of harvest. Thanks to the relentless efforts of CHISAGE ESS team, the explosive new product Mars Series 5-14kW low voltage energy storage inverter has made a grand debut. After rigorous testing and inspection from various parties, the product is now selling like hotcakes in the global market.
New Product Overview:
in order to reduce the time for customers to familiarize themselves with and understand the use of new products, we have learned and referenced the interface design and installation interfaces of similar products in the industry, in order to lower the threshold for customers in knowledge transfer and operational application. Based on this, we have also upgraded and iterated on aspects such as appearance, performance, power devices, algorithm control, and safety protection, while ensuring competitive pricing, to ensure that the product meets customers' expectations precisely once it is launched.
Functionality Selling Points
CHISAGE ESS Mars Series of three-phase low-voltage hybrid inverters are available in the power range of 5-14kW, with IP65 high protection degree, low voltage of 48V and 43A PV input current. In addition to the functions of common hybrid inverters in the market, Mars Series 5-14kW low voltage three-phase hybrid inverters have the following unique selling points:
-Colorful 7-inch touch LCD
-Less than 5ms on /off grid switching time
-Supports max. 20 inverters in parallel under off-grid operation
-Supports different power inverters parallel connection
-150% three-phase unbalanced continuous output
-Independent input port for diesel generator
-Matching lead-acid battery and lithium battery connection
-Support smart load intelligent control function
-Battery DC reverse connection protection
Production Line Introduction
CHISAGE ESS's inverter production line is based on high efficiency, precise production process and strict quality control so that we could provide our customers with inverter products of high quality. Our inverter production line currently covers an area of 10,000+ square meters and can produce 3,000+ inverters per month. When customers enter the inverter production line, they can intuitively and clearly see the six major production processes: pre-production, assembly, testing, packaging, palletizing, and warehousing.
Installation Video
When the customers receive the Mars lucky parcel from CHISAGE ESS factory, our technical engineers have already thoughtfully prepared a set of detailed installation steps, come and watch the video to unlock it!
Application Scenarios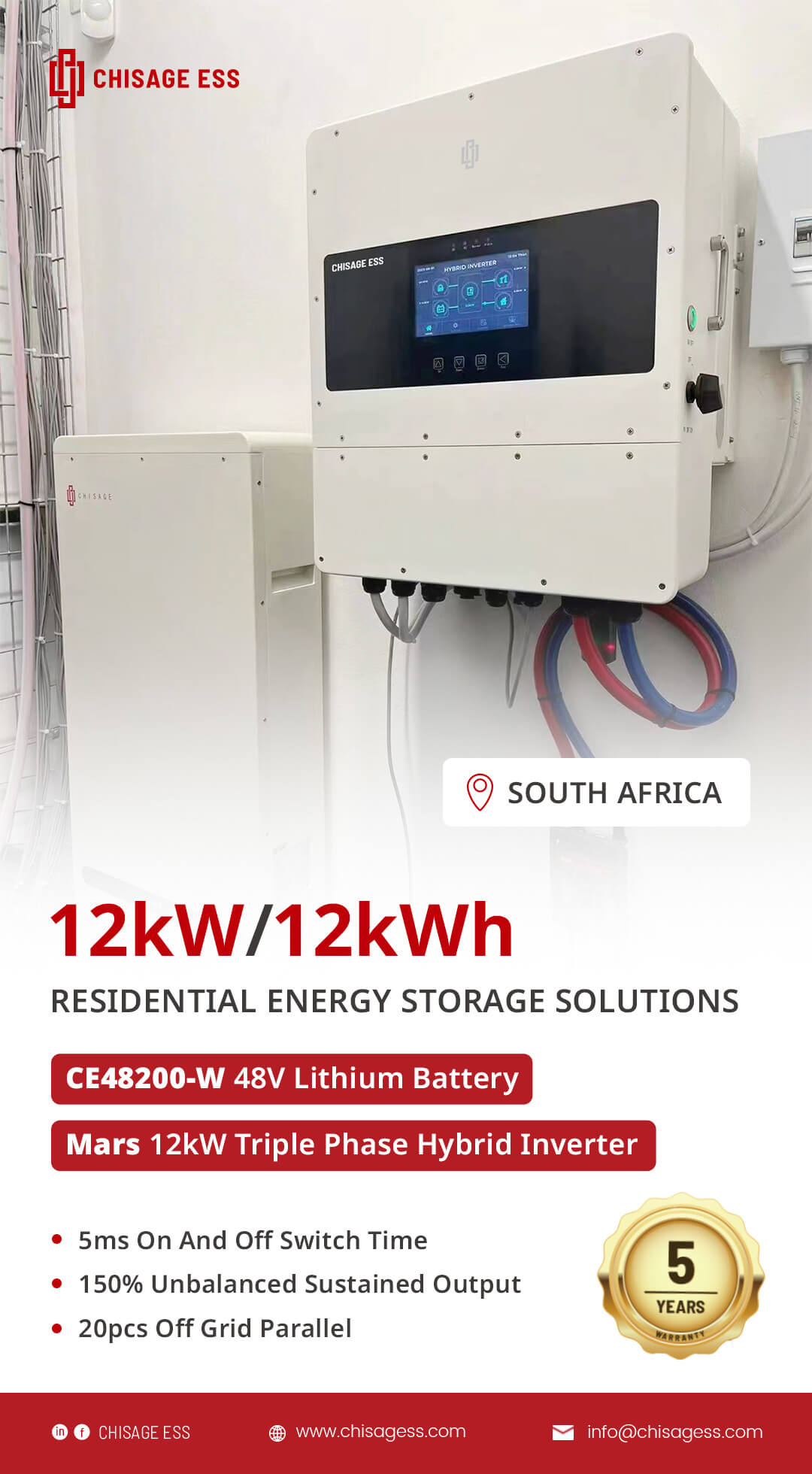 Taking "Leading the innovation of Energy " as the driving force of our relentless pursuit, CHISAGE ESS is actively looking for partners around the world. We export high-quality hybrid inverters to distributors, wholesalers, and resellers all over the world and provide premium OEM/ODM services. We look forward to you being part of our success story as we continue to push the boundaries and redefine what is possible in the industry.
Join us. Now is the future!