Mars-(5-12)G1-LE three phase hybrid inverter
Unlimited quantity inverters parallel for on-grid and off-grid operation
Support triple-phase mode and full-power single-phase mode
100% unbalanced output, each phase max. output up to 50% rated power
Support ON/OFF GRID mode switch, EPS output
Colorful 7-inch touch LCD, IP65 protection degree
Support battery charging/discharging according to the time setting
Dual AC input port for the grid and diesel generator
Support storing energy from diesel generator
Support different power inverters parallel connection
ARC fault detection optional
Three Phase Hybrid Inverter
Three-phase hybrid inverters are perfect for commercial and industrial applications. It is a modern tool that manages the power flow of solar or generators. This type of inverter can store and release power energy effectively.
Chisage offers versatile and advanced technology three-phase hybrid inverters. We designed this inverter to operate with AC, battery, and solar power sources. It has a strong storage system that stores energy for homes and appliances.
Our three-phase hybrid inverters come from 4kW up to 250kW storage with 220/400V. It can be installed in parallel to reach the highest power storage. All our three-phase hybrid inverters have screen displays for fast and easy maintenance.
For customization, feel free to give us a beep!
Why Choose Chisage Three-phase Hybrid Inverters

Great protection
To ensure that our three-phase hybrid inverter provides safe operation, we are using IP65 and IP66 protection. You can use our inverter for outdoor applications.
Flexible Configuration
Our three-phase hybrid inverter is designed with multiple working modes. It has great adaptability and support diesel generator, battery loads, PV, and more.
Upgradeable
Chisage never stops developing new ideas to keep our three-phase hybrid inverter unique and advanced. It is 100% upgradeable and adjustable.
Advanced Cooling System
Using the latest technology, we can develop an advanced cooling system. It has a natural cooling system that eliminates the noise of fans.
Our Three Phase Hybrid Inverter Applications
Chisage three-phase hybrid inverter has wide applications. We are providing different industries internationally. Our three-phase hybrid inverter is capable of operating in harsh conditions. You can use this inverter for:
Marine power management
Home or factory power shedding
Fuel-saving system
Commercial building sites
Telecommunications
And more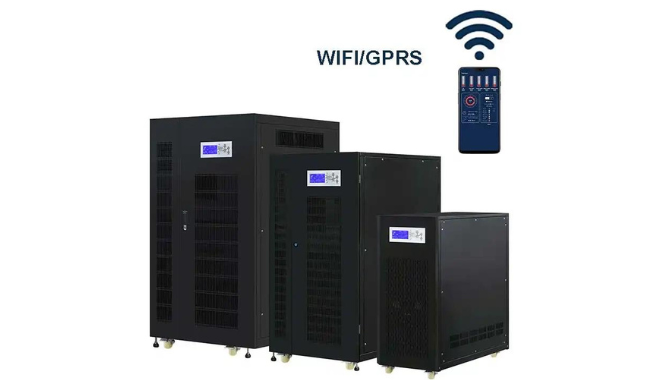 Three Phase Hybrid Inverter Compatibility
Our three-phase hybrid inverter has great compatibility with any operational components. We designed our inverter to perform any use at any location. It is compatible with:
Power generators and electrical grids
Wind turbines
Sinewave inverters (230V to 400V)
48V battery and DC/AC couple
Feed-in to grid inverter
Compatible with 8kW, 10kW, 12kW current
Chisage Three-phase Hybrid Inverter Key Benefits
Our three-phase hybrid inverter is truly beneficial for your business. It has the following key benefits:
Premium flexibility designs
Seamless operation
Fast monitoring set-up
Supports Wi-Fi, ethernet, and cellular connectivity
Fault and SafeDCTM protection
It is battery ready
Allows over-sizing up to 200%
Enhances low-light performance
Lightweight and compact
Provides 100% energy loads
| | |
| --- | --- |
| Type | 3-phase Hybrid Inverter |
| Protection | IP65 |
| Ambient temp. | Up to 60ºC |
| Batt. voltage | Up to 60V |
| Batt. current | Up to 240V |
| Input current | Up to 27A |
| Input power | Reaches 13,000W |
| Output power | 25, 000W(8-10 seconds) |
| Discharge current | Max. 240A |
| Batt. Discharge(by voltage) | Up to 60V |
| Certification | TUV, CE, etc. |