No need for cumbersome installation procedures and long waiting time. CHISAGE ESS introduces the newly upgraded Mars G2 series of low-voltage three-phase 5-14kW hybrid inverters with hot-swappable ingenious design to provide users with a more convenient and efficient green energy experience.
New Product Introduction
"Installation operation is complicated, don't want to waste a lot of time" "No professional knowledge, expensive to hire installers" ……
In order to provide better products to global customers, CHISAGE ESS team has been listening to the truest voices from the user end. For experienced dealers or those who have installation teams, wiring problems can be easily solved, but complicated interfaces and wiring still put new users in an awkward situation.
In response to the pain point that most of the inverters on the market are complicated to install, the expert R&D team at CHISAGE ESS has conducted optimization and upgrades for the Mars hybrid inverter. This has given birth to the Mars G2 series, a 5-14kW low-voltage three-phase hybrid inverter, heralding the era of hot-swappable inverters. There's no need for cumbersome installation procedures or lengthy wait times. We present to you a brand-new solution, allowing you to experience an efficient energy system in one fell swoop.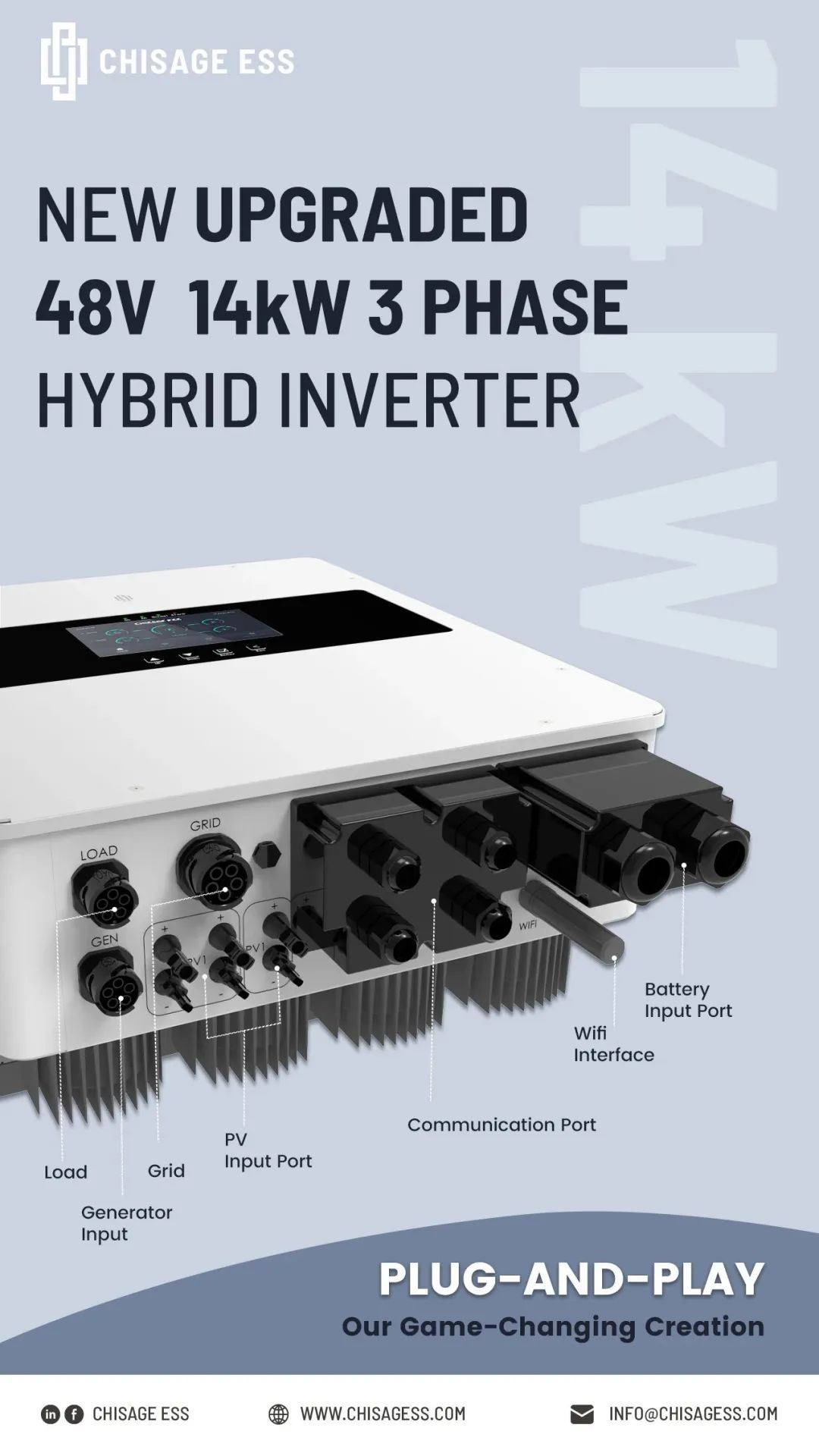 Functionality Selling Points
CHISAGE ESS Mars G2 series three-phase low-voltage hybrid inverter, the power range includes 5-14kW, with IP65 high protection degree, 48V low voltage, 43A PV input current, and unique selling points that differentiate it from other common inverters in the market:
-Colorful 7-inch touch LCD
-Less than 5ms on /off grid switching time
-Supports max. 20 inverters in parallel under off-grid operation
-Supports different power inverters parallel connection
-150% three-phase unbalanced continuous output
-Independent input port for diesel generator
-Matching lead-acid battery and lithium battery connection
-Support smart load intelligent control function
-Battery DC reverse connection protection
ARC fault detection optional
From a functional perspective, Mars G1 and Mars G2 may appear to be similar, but a closer examination of the comparison between the bottom diagrams of these two products reveals some intriguing features. It's not hard to notice that Mars G2 has made significant adjustments to the bottom structure, with a "protruding" design for each port, especially the communication and battery input ports. This design truly achieves plug-and-play functionality, making it suitable for various scenarios, including residential homes, shops, restaurants, farms, ranches, small factories, and more, meeting users' quick installation needs.
Mars G1
Mars G2
Create an undefined inverter, and enjoy an undefined life. The plug-and-play design of Mars G2 embodies CHISAGE ESS's commitment to "customer-first" and "innovation-driven" principles. Whether you are a professional in the energy industry, a distributor, an installer, or a green energy advocate, we sincerely welcome your participation and look forward to meeting you on the path to sustainability.